Branding and Custom Printing Services Bakersfield, Since 1964
Trust us to deliver quality printing services in Bakersfield, CA. We know a thing or two about the importance of building client relationships. You can count on us for your:
Custom Printing
Print and Mail Services
Personalized Branding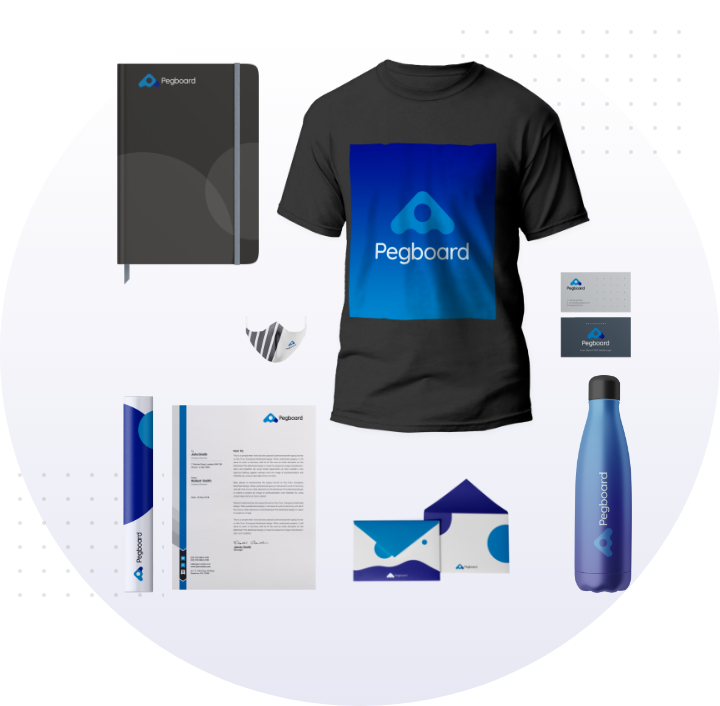 Bakersfield Print Services
Our print shop in Bakersfield, CA, has helped 100s of companies build employee and client loyalty through creative and thoughtful branding. Pegboard has become a trusted source in Bakersfield not only for engaging branding but for direct mail services as well. As one of the best printing Bakersfield company, our custom print solutions will help your brand stand out.
Our clients know we are always ready to deliver the highest quality products, such as apparel and merchandise, that will represent their values and identity well. If you have printing needs in Bakersfield, don't hesitate to give our team at Pegboard a call!
We've got custom print, mail, and branding services to fit your unique business goals.
Trusted by Bakersfield Businesses
"Pat always has great ideas for branding and promo, and the final products are second to none. Pegboard is the only choice for custom print and branding in Bakersfield."
"This company is very easy to work with. They were patient and helped me every step of the way. I look forward to working with them in the future!"
"Excellent customer service and really nice work. They printed our program for our church's Messiah Easter Presentation, and they turned out great for a great price!"
Helping Businesses and Organizations Grow
At Pegboard, we help businesses and organizations grow by bringing their brands to life. We do this by offering Custom Printing, Print & Mail, Direct Mail services and Branded Merchandise, Apparel and Products that save our clients time and money and help them get noticed in a crowded marketplace.
We've been around since 1964, serving businesses and organizations throughout California's Central Valley and Central Coast and across the United States. Through our history, we've developed cutting-edge expertise in Custom Printing, Print & Mail and Direct Mail services, and second-to-none knowledge on the latest trends in Branded Merchandise, Apparel & Products.
Custom Printing
Print and Mail Services
Personalized Branding
Promo items
Let an experienced Pegboard team member show you why we're the best.
Pegboard's printing services are about more than fancy stationery.
Here at Pegboard, we take the time to understand you, your business, and your goals. We incorporate that understanding into custom-printed products to help build brand awareness and loyalty.
Custom printing can be a powerful tool, one that not only organizes and distinguishes your business but builds long-term credibility with your clients.
Branding is all about getting noticed. With our second-to-none knowledge, you'll have mugs, pens, lanyards, and more to help with lead generation, brand building, or employee appreciation. If you need a print shop in Bakersfield, let our team be your first call.
If you have an idea for a custom print in Bakersfield, don't hesitate to give us a call! We supply custom-printed checks, stationery, specific forms, and more. Whatever idea you have for merchandise, paper goods, or apparel, we can make it a reality!
It all starts with your free one-on-one consultation.
During your consultation with one of our printing experts, we'll discuss your specific needs and how we can accomplish your goals. Together, we'll uncover what strategies are the best fit for you.
Perhaps you need help branding some documents to build legitimacy and boost your organization. Or maybe you are looking to mail out newsletters or coupon books. Got a company event coming up? Boost your team's morale by handing out custom company hoodies with our branded apparel and merchandise!
After that initial call, our team will work on creating a plan to meet your vision, whether it's custom printing, mailing, branded merchandise, or promotional products. If you've got an idea, we've got the solution. Once we have crafted our strategy for you, we'll get to work doing what we do best: organizing and growing your business.
You're the most important member of our team.
Here at Pegboard, we want you to know we are much more than printing services in Bakersfield, CA. Why? Because when our partnered businesses in Bakersfield succeed, we succeed. We want to help you organize, grow, and thrive in the long haul.
One of the most important areas our custom print professional team in Bakersfield focuses on is building a working relationship with you. We want to hear about your struggles, successes, and long-term goals.
At Pegboard, we've taken a unique approach to the custom print industry. We've been in business since 1964 and have shifted, adapted, and grown with trends to ensure we deliver what our clients want.
We've been family owned and operated since 1964.
Pegboard has always been a family business. Our founder, Preston Burdette, first started the company in 1964, primarily offering accounting services to local businesses. When Preston's son Bob joined in 1982, the company continued to evolve, and the range of printing Bakersfield services offered increased.
Flash forward to 2021 as we rebranded to our new name, Pegboard. Why did we choose that name? Check out the story here.
Not only is Pegboard the go-to source for all of your custom printing needs, but we are also proud to offer print and mail services and personalized branding. We are the one-stop-shop for any business that wants to keep organizing, building brand loyalty, and growing.
Start working with Pegboard today by scheduling a consultation with one of our printing professionals.